Summer of loss.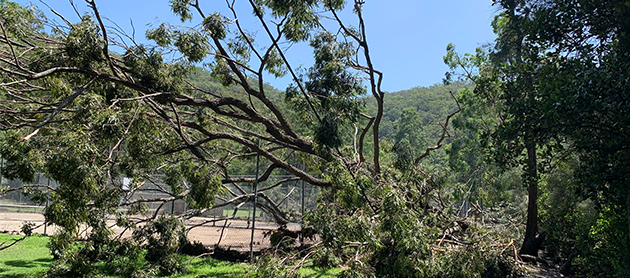 Every summer major loss events impact Australia and the South Pacific Islands as a result of thunderstorms, cyclones and bushfires.
While the Pacific Cyclone season has already commenced it has not yet affected Adventist property in the region. Please pray for this part of the world and their communities over the coming months.
To date, numerous Australian Adventist sites have reported losses which have occurred over the summer. The damage caused by loss events such as large hail, strong winds, heavy rain, lightning and bushfires, can result in damage costs that range from minor to significant.
Actual details of losses must be kept confidential, but we can share with you sites we are working with where various weather events over the 2019/20 summer period may have resulted in a potential loss:
---
North NSW
Adventist Senior Living, Cooranbong
Avondale Schools
Blue Hills College, Lismore
Central Coast Adventist School
Kempsey Adventist School
Manning Adventist School
Port Macquarie Adventist School
Schools Company Offices, Cooranbong
Tumbulgum SDA Church
Tweed Valley Adventist College, Murwillumbah
Wingham SDA Church
---
Greater Sydney
Adventist Aged Care, Normanhurst
Adventist Aged Care, Kings Langley
Ashfield SDA Church
Blacktown SDA Church
Crosslands Youth and Convention Centre
Minto Samoan SDA Church
Parramatta SDA Church
Sydney Adventist School Auburn
Wahroonga SDA Church
Wetherill Park Spanish SDA Church
---
South NSW
Canberra Christian School
Canberra National SDA Church
South Canberra SDA Church
South NSW Conference Offices
---
South Queensland
Adventist Book Centre, Kallangur
Logan City Samoan Church
Stanthorpe SDA Church
South QLD Conference Office
Watson Park Convention Centre, Dakabin
Noosa Christian College
---
South Pacific Division Entities
SPD Offices, Wahroonga
Sydney Adventist Hospital, Wahroonga
---
There may be other Adventist sites affected, and we are doing all we can to obtain information from around the region.
If you know of an Adventist site that may have been impacted by a significant weather event over the summer period, and they are not listed above, please contact RMS or your local conference office. We are ready to help.
---
Several trees come down at Crosslands Youth and Convention Centre during the East Coast Low in early February. Photo: Jonathan Hale
Last updated: 3:30pm, 20th February 2020