Don't Let Criminals School You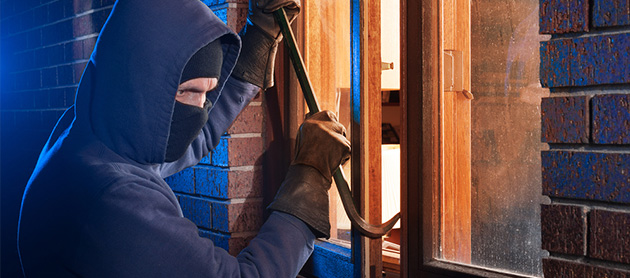 A sign outside a Baptist church reads: "Whoever stole our AC units, keep one – it's hot where you're going."
Question: What makes a thief or vandal choose your site to hit?
Answer: Opportunity
When selecting a site to strike, a thief or vandal does not care about a shrieking alarm system or even surveillance cameras. A smart crim is looking for three key site weaknesses:
 A place to hide and remain undetected
 Ease of access
 Ease of escape
In a matter of nanoseconds they can tell whether a site is worth entering. And before you can say, "Call triple-0", you can say goodbye to expensive equipment or hello to a very large damage bill. The reality that stings the hip pocket the most though, is that the crime may well have been prevented by a few low-cost, yet effective security measures.
"Target hardening" is a term we often use in RMS. Basically, it means how you might go about making a site "too difficult" for thieves and vandals to strike by removing the crime opportunities.
Let's look at some options for target hardening your site on a budget.
Vegetation, Lighting and Property Pride
Offenders want to be as invisible as possible and will be deterred by sites with good natural surveillance. Natural surveillance is a broad concept that simply means how well a person can see into a property to observe movement around doors and windows, and also the visibility out of a property to observe the street. So you want to be able to clearly see who's coming and who's running like they stole something.
A large bush directly outside a window that obstructs line of sight is an example of poor natural surveillance, and is often the perfect hiding spot for offenders. Poor lighting in car parks, around entries and exits is another good example of site weakness.
Any improvement to the look and feel of the environment that communicates the property is cared for will be less subject to crime. Lawns not mowed, old equipment left to rot outside, gardens full of weeds, cobwebs left to accumulate and leaves not raked – these all communicate that nobody cares about the property. Vandals especially are attracted to poorly maintained sites.
Window and door locks
Good quality window and door locks are an often over-looked security measure. Locks are a not-too-expensive, yet effective site investment, because if the entry point is too tricky to force, the bad guys won't bother. Deadlocks offer even better security. Just make sure to keep good records of who has keys, or if there's more budget, invest in an access control system.
Exit obstacles
Did you know that planting prickly shrubs and bushes below windows, and prickly vines around gates and fences can also be a deterrent? Anything that might slow down an offender's get-away will make a site less attractive to criminals. Speed humps, bollards and sensor lights may also help discourage offenders – any chance they could be slowed down poses a risk of being caught that they're not often willing to take.
Fix broken windows and clean off graffiti
All the literature says that this needs to be done immediately or as quickly as possible to prevent further loss or damage.
Budget for it.
If your site has ever suffered a loss from forced entry, theft or malicious damage, now is the time to ensure site security and 'target hardening' measures are included in the site's annual budget. Below we've provided an example of what potential costs could be involved in target hardening, say, a local Church.
Regular garden upkeep.
Most churches do this by working bee, so the cost could be minimal, but if you use volunteers remember to ensure they work safely.
Installation of outdoor lighting.
$60 to $200 per light + materials
$50 to $120 per hour for installation by qualified electrician
Example: Install 6 lights, plus 4 hours labour $560 to $1680
Deadlocks on windows and doors.
$20 to $40 per window lock, $50 to $200 per door lock
$30 to $80 per hour for installation by handyman
Example: Install 4 window locks and 2 door locks, plus 4 hours labour $300 to $880
Risk Funding is Ready to Help
Don't forget about RMS' Risk Funding program. In the past couple of years we've been able to support a number of schools and churches by co-funding sensible security measures, appropriate to target harden their sites. If you'd like assistance with improving the security of your church-owned site talk to RMS, we're ready to help.