Travel Like a Boss – 10 Must-Know Travel Tips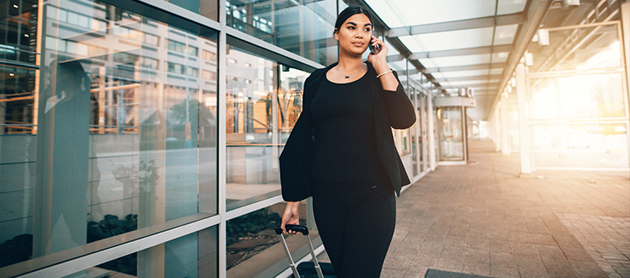 We invited our corporate travellers to share their best tips, tricks and shortcuts to keeping safe, efficient, connected, healthy and happy while travelling. The travellers who gave the best answers received a nifty powerbank – the perfect traveller's companion.
The judging panel were asked to choose the best responses based on four categories: Savvy-ness; Personal Safety and Security; Church Business and; Health and Happiness.
Here is what our top travellers said:
Personal Safety and Security 
As someone who heads out to remote places on a regular basis – and leads a team of people who do the same – Denis Grellmann, CEO of ADRA NZ, knows a thing a two about personal safety and security recommending that one should always arrange for Taxi rides with reputable companies. "Never accept an unknown passenger either," he says, "travel light and dress modestly."
Remaining mysteriously anonymous is a fellow ADRA colleague who suggests that when you leave your hotel room in the evening you should hang the 'do not disturb' sign on the door. "It discourages unwanted visitors when you are out."
"Make friends everywhere," encourages our effervescent Stewardship Director, Christina Hawkins, "they keep you safe." Christina also suggests that carrying the SPD directory with you at all times in the Pacific Islands will help you find mobile numbers for mission staff should you find yourself stranded somewhere.
Savvy-ness
We defined 'Savvy-ness' as demonstrating shrewdness, practical knowledge and experience to save time and improve efficiency when on the road or in the skies.
With that in mind we could not go past the advice from Open Heart International's General Manager, Michael Were, who suggested that we should not judge the speed of a check-in or customs line by the number of people, but by the way people are dressed, how they act and who they are with. "A line of business travellers, even if longer, will always move faster than one full of holiday makers," he says. "Business travellers know the drill."
Division CFO, Rodney Brady, can often have an intense travel itinerary so he recommends an App called "TripItPro" which keeps all of his travel plans in one spot, gives live updates of airline flight status, change of flights, delays and gate info even before the airline does. "The best part is that my wife can access it," states Rodney, "she knows exactly what's happening wherever I am." We're sure she appreciates not having to keep photocopies of tickets and itineraries either.
Healthy and Happy
Something we wish every single one of our travellers would remember is the advice from Field Secretary, Graeme Humble, to always carry your important medications in your hand luggage. He also suggested that one should carry some spare toilet paper in one's pocket, particularly in remote areas of the Pacific. Now that's a suggestion we could never turn up our noses at!
We all know that awful feeling, you either can't sleep or you wake up with a crick in your neck from sleeping on a terrible motel pillow, and you just wish you packed your chiropractor… no wait… Listen to the sage advice of Assistant Record Editor, Kent Kingston, who suggests you should just bring your pillow from home! "Most pillows squish down pretty small," states Kent. "You'll be surprised how well you sleep in a new place." Also, don't be like Kent and forget to take it home… nawww.
Church Business
Let's not forget that our corporate travellers are on 'church business', they're not on a holiday even if they are going to Tahiti (ok, maybe just a little, teeny-tiny one… please?). These are responses that got our attention for recognising the REAL purpose of corporate travel.
We loved the advice from Na Shen, NNSW Schools Assistant Accountant, who had her priorities in the absolute right place, "Get travel insurance, exercise caution, share Jesus with whomever we meet." Boom! Nailed it.
Our colleagues in the Pacific were represented through the wise words of Nasoni Lutunaliwa from the TPUM office. Nasoni reminds us to be covered by insurance and to be spiritually fit when we travel by spending time in prayer and feeding on the word of God. He also advises to be sensitive to the culture, "Courtesy demands that you present yourself to the boss of the mission you're attending," he says.
Last, but by no means least, is a wonderful lesson in stewardship from Dr Silent Tovosia, also from the TPUM, "Always commit to the Lord all the trips for His guidance and blessings." Dr Tovosia advocates that this is the first step to ensuring the trip is in order with His will. He goes on to add, "Respect your hosts and be flexible and friendly even if circumstances are difficult. Be prepared to sacrifice for the sake of Christ and the gospel. Remember that Christ's presence is with you always." Can I get an Amen?!
We want to thank all of our corporate travellers who sent us their best tips and advice – we were blown away by the quality of all of the responses! Thank you especially for the sacrifices you make – being away from family, away from home and the comforts of familiar surroundings – to do the business of the Church in other parts of the world.